Articles
»Using Fuji Prescale to Fine-Tune Winding Tension in Roll Products
Using Fuji Prescale to Fine-Tune Winding Tension in Roll Products
Written by Igor Mateski
Keywords: Roll pressure gauging, roll tension adjustments, roll products rolling problems, how to precisely wind a roll product
Summary: Rolled products such as functional film, coated paper and even sheet metal rolls need a specific rolling tension in order to form a uniform roll. Using the Fuji Prescale rolling technicians can precisely set the rolling tension and avoid rolling problems such as telescoping, blocking, tapering etc.
The Rolling Mechanism
Rolling of continuous sheet products is the easiest way to pack and transport products such as:
Functional films
Paper products
Coated paper
Functional paper
Metal rolls (steel, aluminum, lithium etc)
For each material, the dimension, speed and rolling tension vary. When a factory changes the width of the product, the rolling tension must be adjusted so that the surface pressure and tension force are matched precisely for an even, uniform roll without surface damage of the rolled product.
Rolling Problems
However, switching width of material and adjusting a matching rolling tension is not a simple matter. Usually, this tension tuning is a trial-and-error approach that is both laborious and expensive due to loss of tens or even hundreds of meters of finished product.
If the tension is not properly adjusted with the growth of the coil, there can be rolling problems such as:
optical distortions due to strong tension
surface indentations
roll telescoping
roll blocking
roll tapering
winding drift
slack winding etc
Roll tension is especially important in functional films where the optical integrity of the rolled material must be unchanged. With its high price, changing width of product and adjusting rolling tension is a very expensive procedure.
Solving Rolling Problems with Fuji Prescale
The most elegant solution in gauging, calculating and adjusting the right rolling tension throughout the coil's size (beginning, mid-section end, they all require different rolling tension) is to measure the tactile pressure between two contacting surfaces of the rolled material.
The image below illustrates how the Fuji Prescale film should be used: along the entire width of the coil, in several critical coil locations, eg the start of the coil, the mid-section of the coil and at the last rolls of the coil.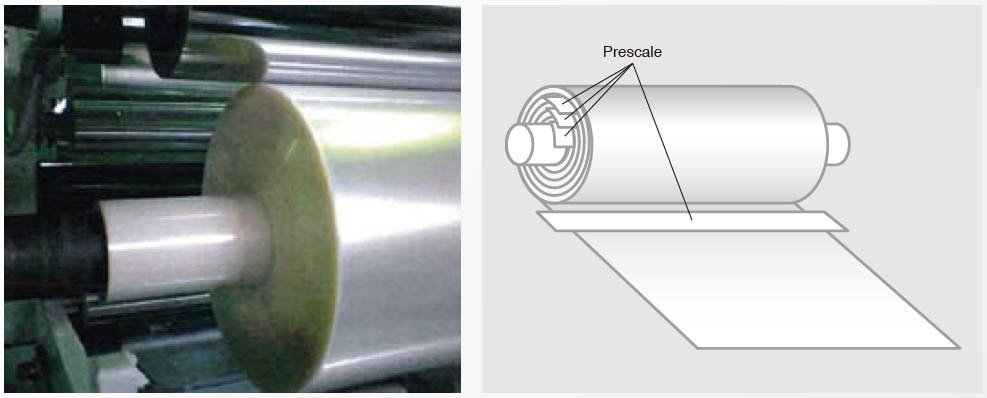 Below is an image of how the developed Fuji Prescale films should look like in different stages of the coil size.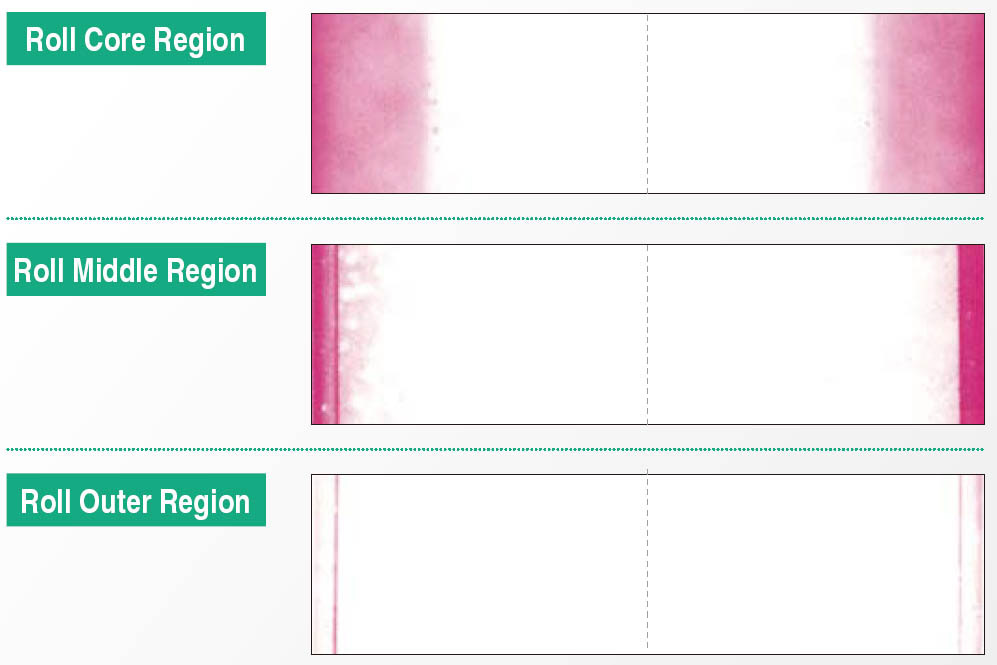 By using the Fuji Prescale Film at the very beginning of the coil, its mid-region and the outer roll region, manufacturers can precisely know if the winding tension is set right. With the findings of the developed Fuji Prescale films, technicians can set the right tension each and every time, ensuring uniform winding quality for every roll.