Articles
» How To Improve Wafer Thermo Bonding Processes With Fuji Prescale
How To Improve Wafer Thermo Bonding Processes With Fuji Prescale
Keywords: wafer thermo bonding, cmos image sensor manufacturing, repairing thermo bonding machines, tactile pressure measurement
Summary: Wafer Thermo Bonding is used in chip manufacturing, cmos image sensors, compound semiconductors etc. If the pressure plates are not perfectly aligned, or the wafer/object is not even, the end products will be defective. Fuji Prescale is the best possible way to easily obtain tactile pressure distribution measurement and precisely diagnose any manufacturing or materials problems.
Written by Igor Mateski
Wafer Thermobonding As Compound Components Manufacturing Process
The ever-increasing demand for compound semiconductors, silicon wafers, CMOS image sensors etc. creates market pressure on manufacturers to:
lower production costs,
increase manufacturing yield, and
preserve optimal production quality.
This pressure also spills over to bonding equipment manufacturers where the equipment requirements for precision increases.
Such market pressure means that both equipment manufacturers and thermobonding components manufacturers must find a way to ensure that their products can meet the market demands for quality and offer competitive prices.
For equipment manufacturers, this means producing thermobonding machines that will have perfect pressure plate alignment for long periods so the machine has long exploitation lifetime with longer servicing intervals.
Challenges in Thermobonding Processes
The challenges of manufacturing thermo-bound components increase because products need to be smaller, have greater semiconductor density and lower the power consumption. This means that the thermo-bound components must get smaller, thinner and lighter.
Knowing that the alignment of pressure plates must be within nominal tolerance, as dimensions grow smaller, the susceptibility to alignment problems rapidly increases. Add to this the ever-thinner wafers and the problem quickly gets overwhelming.
While equipment manufacturers need to only worry about reducing dimension tolerances and use more advanced manufacturing materials, the actual thermobound manufacturers have the added concern of making the wafers/laminates as even as possible. The ever-thinner laminates are getting more fragile and more sensitive to dimension inaccuracy, and on such small scale, detecting any of these inaccuracies is very difficult.
In this manufacturing process, quality assurance becomes a retrospective activity where service technicians must rely on examining samples from various manufactured batches to look for defect patterns and establish a diagnosis
The problem with this kind of manufacturing is that quality assurance becomes a very time-consuming and expensive procedure. If technicians cannot establish a diagnosis the process gets even more expensive as they would need to run many trial-and-error scenarios in order to get to a measurable alignment inaccuracy.
Using Fuji Prescale in Eliminating Thermobonding Problems
With the growing demand for high-quality components at bargain prices, manufacturers have only one option to meet these demands and stay competitive: The Fuji Prescale films.
Fuji Prescale is a thin, pressure-sensitive film that enables service technicians to directly read out tactile pressure distribution thanks to the color nodules that break under pressure. The higher the pressure, the higher this nodule breaking occurs, and there is a stronger coloration of that high-pressure area.
Using the Fuji Prescale film, thermobonding machines can be quickly and directly tested for pressure plate alignment. Also, if plate alignment is nominal, Fuji Prescale helps technicians directly measure wafer evenness. This two-step approach enables service technicians and quality assurance technicians get to a working diagnosis quickly and easily.
Here is how this two-step process works.
First, technicians need to make sure that the equipment works properly. To do this, the service technician needs to place a Fuji Prescale film that suits the pressure range of the machine, and activate the pressuring system. When the two pressure plates squeeze the Fuji Prescale film, the color-filled nodules break and release the pigmented fluid. The developed film will present a visualization of the tactile pressure, as is shown on the image below: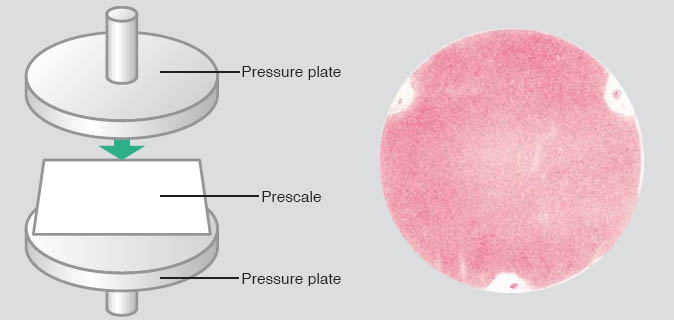 The developed Prescale film shows an even pigmentation which is indicative of a well-aligned pressure plates. This machine is production-ready and it will provide an even tactile pressure for the laminates to get thermo-bund properly.
The second step is a Quality Assurance procedure where the quality assurance technician will need to check if the wafers/laminates are cut precisely. This second step measures if the wafer has the same nominal width along its entire surface.
In order to check for nominal thickness, the technician needs to place a wafer plate from the manufacturing bin, place the prescale film and apply the nominal pressure, as is shown on the image below:
The developed film reveals that the wafer does not have even thickness and this dimension discrepancy creates variable tactile pressure which in turn results in faulty components manufacturing process.
Without the Fuji Prescale film there is very little chance for the manufacturer to quickly and effectively establish a proper diagnosis.
If manufacturers do not use the Fuji Prescale film, they have no way of properly diagnosing the manufacturing process. This usually results in large product waste because of faulty manufactured products. Also, technicians would have to spend more time in troubleshooting the process as a complex system.
However, when manufacturers rely on the Fuji Prescale film, the complex manufacturing system can easily be broken down to Equipment Testing and Materials Testing. This direct, fast and precise diagnostics procedure saves a lot of time and materials. Thanks to the Fuji Prescale films, manufacturers can now:
bring down manufacturing expenses,
increase the manufacturing yield,
ensure high production quality.
Using the Fuji Prescale film can significantly increase the profitability of thermo-bound components manufacturers.